Full service UX consulting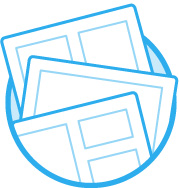 Explore
Understand the unmet needs of your customers to design the right product or service.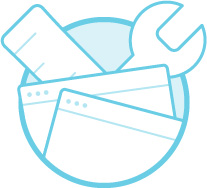 Design & Refine
Get feedback early and often to course correct while it's still easy to do so.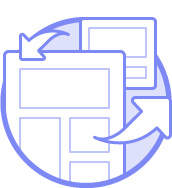 Measure
Know where you stand and get the insight you need to focus future development efforts or to document achievement of objectives.​
Creative. Flexible. Research-minded.
Quantifying your customer experience can be just as important as designing it. There are many ways to get the insights needed to guide your development process. We match the best research method to address your specific objectives and right-size our efforts without blowing your budget.
Formative usability testing
Collaborative design workshops
Information architecture assessments
Summative usability testing
Human factors validation testing
Health and medical device experience
Of our work is in medical device, digital health
Med device, pharma, and medtech companies our team has worked with in the last few years
Years' combined experience applying human factors engineering to development of medical devices according to industry standards and FDA guidance
Healthcare and medical device research and design engagements our team members have planned, managed, and executed over the past 5 years
Our expertise in every stage
Exploration

30%

Design & Refine

45%

Measurement

25%
Testing a variety of products
Injection devices

30%

Packaging, labeling, instructions for use

25%

Digital assets & connected devices

30%

Infusion pumps, diagnostics, surgical devices, other​

15%
Testing in US

75%

Testing outside of US

25%
Large-scale and global user research experience
Of our work is large scale, global user research
Countries our team has conducted research in
UX research partner firms we collaborate with around the globe to be our local experts
Point of contact for your large-scale, global research
Our expertise in every stage
Exploration

20%

Design & Refine

40%

Measurement

40%
Testing a variety of products
Connected experiences

50%

Medical devices & digital health

25%

Finance, tech, other

25%
Northern Europe

50%

APAC

30%

LATAM

10%

Southern Europe

10%
Of our work is focused on connected devices and experiences
Leading B2B and B2C eCommerce companies our team has worked with
Leading tech, telco, and media firms our team has worked with
Automotive OEM, supplier, and alternative mobility firms our team has worked with
Our expertise in every stage
Exploration

20%

Design & Refine

60%

Measurement

20%
Testing a variety of products
eCommerce

35%

Connected medical devices

25%

Smart home

20%

Mobility

20%
Testing in US

75%

Testing outside of US

25%
[bōld]​
ADJECTIVE​
(of a person, action, or idea) showing an ability to take risks; confident and courageous​
(of a color or design) having a strong or vivid appearance​
We love the definition of bold. On the surface, many of us don't look like risk-takers. We are researchers; we are calculated and thoughtful about the insights we produce. We always respect the constraints you are faced with, but we will challenge status quo. We stretch beyond expectations. We are honest and passionate. We bring years of experience and a 'no bullshit' approach to every meeting, every project, every recommendation. We want you to walk away confident that you will build an experience your users will love.​
Oh, and we promise it will be fun because we love our jobs and the energy is contagious.
Gavin Lew
Managing Director
Gavin has 25 years of experience in corporate and academic environments. He founded what grew to be the largest UX firm in the US. After selling the company, he continued to lead a North American UX team to become one of the most profitable business units of the parent organization. He is a frequent presenter at national and international conferences and the inventor of several patents. Gavin is currently co-authoring a book on artificial intelligence (AI) and UX. He is an adjunct professor at DePaul and Northwestern Universities. Gavin is both a Star Wars and Lego enthusiast, which is easy to tell if you visit our office. Gavin has an MA in Experimental Psychology from Loyola University.
Robert Schumacher
Managing Director
Bob has more than 25 years of experience in UX research. He co-owned the largest UX firm in the US and founded the first international network of UX consulting firms, which has grown to 25 countries. With a passion for global user research, Bob edited The Handbook of Global User Research. He has written standards for voice and graphical user interfaces, he holds several patents, and he has published dozens of technical and industry articles. He lectures frequently on the latest trends in UX research. You can count on Bob for a good farm metaphor, a single-malt recommendation, and a favorite 'extreme' cheese to pair with a Rioja. Bob holds a PhD in Cognitive and Experimental Psychology from the University of Illinois, Urbana-Champaign.
Led by Gavin Lew and Robert Schumacher, our team brings the expertise and professionalism of a large agency, with the imagination and agility of a startup. How? Because we've been both. We have been working together for the past 20 years to help our clients create exceptional experiences for their customers. We have learned a lot along the way. We keep our overhead low so we can focus our efforts on making you successful.​
Have advanced degrees

100%

Speak at conferences

75%

Hold patents

30%

Have a dog

60%

Claustrophobic

30%

Passionate about lunch

80%

Speak multiple languages

60%
Enough about us, let's talk about you!
We'd love to have an opportunity to bid on your project.
Responsiveness is important to us so we promise to get back to you immediately!
+1.847.773.1869
info@boldinsight.com